UAE eases COVID-19 capacity restrictions starting today
Look: Sheikh Mohammed meets Turkey President Erdogan at Expo 2020 Dubai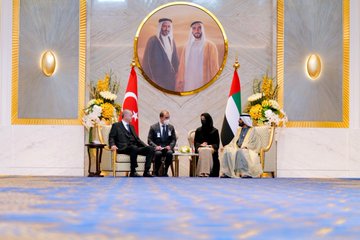 His Highness Sheikh Mohammed bin Rashid Al Maktoum, Vice-President and Prime Minister of the UAE and Ruler of Dubai, has received the President of Turkey, Recep Tayyip Erdogan, at Expo 2020 Dubai.
UAE: Dh18 million from mobile scams, online crimes seized; returned to victims
Abu Dhabi Police has returned Dh18 million to people who have fallen victim to mobile scams and online crimes and reported financial fraud through its new call centre.
Dubai: Expat gang jailed, fined for robbing 3 women after luring them with Bitcoin deal
A gang of four people, including a fugitive, have been sentenced by the Dubai Criminal Court to one year in prison and a joint fine of Dh342,000 — for robbing three women after deceiving them with a deal to sell Bitcoin.
UAE traffic alert: Key road to be closed from tomorrow for 10 days
There will be a partial closure on the E10 Sheikh Zayed Bin Sultan Street for 10 days starting tomorrow, the local transport authority said.
Coronavirus: UAE reports 930 Covid-19 cases, 2,689 recoveries, 1 death
The UAE Ministry of Health and Prevention on Tuesday reported 930 cases of the Covid-19 coronavirus, along with 2,689 recoveries and 1 death.
UAE weather: Fog alert issued for Tuesday morning; temperatures to increase
The National Centre of Meteorology (NCM) issues a fog alert for Tuesday morning, urging motorists in the UAE to drive cautiously and follow traffic regulations.